Podcast: Play in new window | Download
Welcome back to The Star Wars Report!
On this episode, we talk about the Glee Christmas special featuring everyone's favorite wookie, Chewbacca!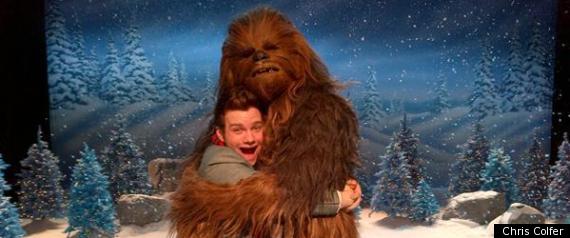 We also cover a story about a firefighter Mike Stentzel, who suffered a stroke and was comatose for a time. Star Wars fans and members of the 501st helped raise money for him and his family, once again showing what an awesome community of fans we are!
We were joined by a good friend, and staff member/contributor to The Star Wars Report, Peter Morrison, founder and admin of LightSaber Rattling, a wonderful Star Wars blog. He tells us a bit about himself and LightSaber Rattling, and how he became a Star Wars fan! Be sure to check out his site, he has a lot of fun, original content on it!
We also discussed George Takei's "Star Peace", his response to the Star Wars vs. Star Trek feud going on right now between Carrie Fisher and William Shatner!
This episode of  The Star Wars Report is sponsored by our good friends over at, Toy Hutt. Interested in buying Star Wars toys, games and collectibles over the holidays? Check them out, they have a lot of great stuff! On this episode, Bethany was curious to see if they had a Governor Tarkin figure, she was remembering the Stephen Stanton interview we did a while back!
Also, a man in Oregon attacks holiday shoppers with a lightsaber!? Clearly a rogue Jedi.
"One officer was able to hit the man with his taser, but the suspect then broke the taser wire with his light saber- at which point, the officers grabbed him and wrestled him to the ground."
Wow, clearly a skilled Dark Jedi at that!
I hope you enjoy this episode of  The Star Wars Report!
~ Bethany
Powered by

Sidelines