The return of Darth Maul to the land of the living has opened  up a tremendous number of storytelling possibilities for The Clone Wars series.  In Maul, George Lucas and Dave Filoni have reintroduced a character that brings with him the cache of being not only a film character, but also a character unlike most in the films in that he has an unknown fate.  The possibilities for Maul run the gamut from being killed early next season to surviving the Clone Wars and becoming a Yoda-like Sith hermit somewhere in the galaxy.
Our friends at Knights Archive posted an article about a new Scholastic book that may shed some light on Darth Maul's plan and the direction the character is going to go.   Targeted at kids age 8 to 12, Scholastic's Star Wars: The Clone Wars: Darth Maul: Shadow Conspiracy is a 160 page book due out this September.  The summary (at Edelweiss) for the book reads as follows:
For the first time ever, Scholastic is publishing Star Wars Clone Wars… based off the hit Cartoon Network TV show, viewed by over 2.4 million every week!
Our story will follow the highly anticipated return of Darth Maul–the infamous villain of Episode I: The Phantom Menace–whose popularity rivals that of Boba Fett. When Darth Maul reunites with his brother, Savage Opress, can even Obi-Wan Kenobi stop him before he rallies the criminal underworld to his cause?
What is this talk about the criminal underworld?  For further clarification we  headed over to Amazon.com to see if they had the same or a different description;
For the first time ever, Scholastic is publishing Star Wars Clone Wars… based off the hit Cartoon Network TV show, viewed by over 2.4 million every week!
Waiting on details from LucasFilms regarding Season 5, but the novel will feature the highly anticipated return of Darth Maul, the villain of Episode I's Phantom Menace, whose popularity rivals that of Boba Fett.
If you take Amazon's description specifically mentioning "Season 5" and Edelweiss's description hinting at events we have yet to see, and combine that with the fact that the book will be released in the same month that the Season Premiere of Season Five will air, it is pretty clear that Scholastic may have dropped a major plot point from Season Five.
Before we get in to my wild speculation about where this story could go, I think it is useful to take a little bit of perspective on the history of Darth Maul and the history of George Lucas's interest and involvement in the Expanded Universe, The Clone Wars, and the Live-Action Series.  Based on anecdotes about Mr. Lucas, we know that he is focused on the stories that he personally crafts and tells in the Star Wars universe.  While his company licenses and produces a plethora of EU works under the Star Wars brand, it is not like he is reading and approving every book written.  It is also true that we have heard on multiple occasions that he enjoys the comics and from time to time will borrow an idea or look for something from the comics.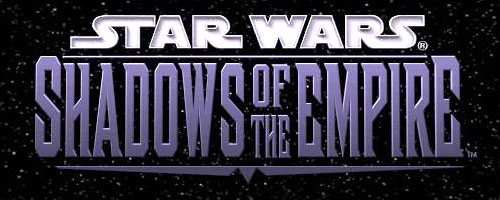 There are two significant stories that I believe Mr. Lucas had a larger hand in crafting than the standard EU fare.  Those would be 1996's multimedia campaign around Shadows of the Empire and 2008's The Force Unleashed.  Shadows of the Empire was significant for a number of reasons. The story itself was set between Empire Strikes Back and Return of the Jedi so it had to fit in with Lucas' vision of those stories.  Shadows was also a bit of a trial balloon to gauge fan interest in Star Wars before the 1997 release of the Special Editions of the original trilogy and the 1999 release of the Phantom Menace beginning the prequel trilogy.  It makes sense that Lucas had a strong hand in the project, but it was author Steve Perry (among others) who crafted the specifics of the story.  As Steve Perry explained in an interview with EUCantina.net;
EUC: Let's move on to specific projects: Mr. Perry, what can you tell us about being involved in the Shadows of the Empire Media Event? Mr. Reaves, what can you tell us about working on Darth Maul: Shadow Hunter, as Darth Maul is such a mysterious character ?

SP: SOTE was a test-run by Lucasfilm, designed to see how such a multimedia project would work, during the time before the second set of movies. A very collaborative effort, which was laid out during a meeting at Skywalker Ranch, wherein a bunch of us sat down and hammered out a storyline, then parsed it out — I took notes, then went home and wrote an outline upon which the novel, comics, games, toys, etc. were based. It was a lot of fun, and I got to play with the original cast, plus come up with some interesting EU characters.
Lucas also had a large role in The Force Unleashed and that story and game's development.  The video below goes in depth on Lucas's role in the story of the secret apprentice.
http://www.youtube.com/watch?v=66vVBcKas3A&feature
Then of course there is the currently on hold Live-Action Series which already has a full season of scripts written.  With the working title of Star Wars: Underworld, the Live-Action Series is suppose to focus on the seedier side of the galaxy during the rise of the Empire.  Notice the connection between Shadows of the Empire and the Live-Action Series.  It seems like criminals and scoundrels have a fairly large part to play in Star Wars, but we will get back to that in a minute. In terms of The Clone Wars, we know that George Lucas has a very strong hand in the show, and while Dave Filoni is the supervising director and the show runner, Lucas is present at story conferences where stories are "broken" and many ideas are developed.  This can be seen in behind the scenes clips released as well as numerous comments by Filoni and other TCW staff members.
Lucas has set up a story in TCW where we know have Sidious in control of the Republic, his apprentice Count Dooku leading the Separatists in this charade.  We also have Sidious' eye on a potential new apprentice in Anakin, two former apprentice's of Dooku in Asajj Ventress and Savage Opress and a former apprentice of Sidious in Darth Maul.  This is a lot of Sith or would be Sith for the Rule of Two to attempt to contain. At this point there is no reason to believe that Sidious knew that Maul survived, but that is possible. Operating on the assumption that Maul is now a wild sabacc card that doesn't fit in with Sidious' plans, then it would make sense that there isn't a place for Maul at Sidious' side.  Count Dooku certainly wouldn't react well to his Master's previous student returning and seeking to usurp his position.  Sidious may also be reluctant to accept Maul back into the fold.
Actor Sam Witwer has been making the media rounds giving interviews to promote Darth Maul's return.  Christian Blauvelt of Entertainment Weekly got some interesting quotes from Witwer regarding Maul's future.
You won't necessarily see all the layers of the character right away, it takes time to unravel. I don't think I'm spoiling too much when I say that he's going to be around for a little bit. You will see a lot more of him going forward than you would have expected.

There are major consequences for Darth Maul being reintroduced to the Star Wars galaxy. This guy doesn't just show up, wave his lightsaber around, have a few mean lines here and there, then pass into obscurity. He makes a major splash in the Clone Wars, and it's entirely consequential the things that he's up to and tries to accomplish.

That goal of revenge is not something that goes away, but what does change is how he's going to go about it. And some of that involves Asajj Ventress. You've seen her become a bounty hunter. But Darth Maul would never become a bounty hunter. He's way too ambitious for that. He was trained as a Sith Lord and that's what he wants to be… But the revenge that Maul wants starts out very straightforward — I'll lock lightsabers with Obi-Wan Kenobi! — but then it becomes a lot more complicated. Simple revenge isn't good enough. It's gotta be grand revenge, on a huge scale, and the galaxy's going to know about it.
Some of Darth Maul's past may point to what he may do in Season Five. At the end of Season Three when they telegraphed the return of Darth Maul, my initial thought was that Maul and Opress would combine with Mother Talzin and the Nightsisters to form another base of power in the galaxy to throw a wrench in Sidious' plans.  In Season Four we saw the Nightsisters (except for Mother Talzin) wiped out by General Grievous and his droid army, so this potential power base has been removed from Maul.  There is another possibility that Scholastic may be hinting at in their book description however.
In 2000 Dark Horse Comics published Star Wars: Darth Maul, a comic series about Maul's mission to decapitate the Black Sun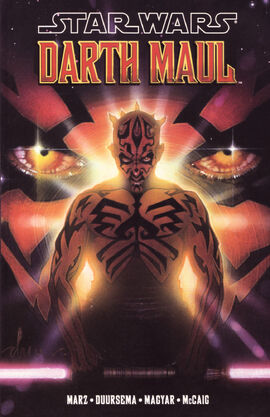 criminal organization's leadership.  Black Sun was the entity created by Steve Perry for Shadows of the Empire with Prince Xizor at its head.  Maul: "Do you wish Black Sun destroyed utterly?"Sidious: "No. One day it might prove useful to me, For now it must be thrown into disarray so it cannot threaten our designs." In Black Sun we have an as yet unexplored base of power, thrown into disarray by Maul's slaughter of the Vigos, Black Sun may be ripe for Maul to assert control over the organization.  While we have seen criminals, smugglers and bounty hunters explored in TCW series we have yet to see Black Sun appear on the show in any form.  If Maul is going to be rallying the "criminal underworld to his cause," what better place to start then Black Sun?  By uniting Black Sun and other criminal operations under his control, Maul has the opportunity make a much bigger impact in the galaxy. It may be that Black Sun and the criminal underworld was a backup plan for Sidious, an external threat he could use to justify centralizing more power or more military buildup if the Separatist plan didn't work correctly or was cut short by the premature death or capture of Dooku and Grievous.
In Revenge we see that Maul knew about the Grand Plan and the planned Clone Wars when he sighs and says "Oh yes, so it began without me."  If Maul knew about the backup plan then perhaps he knew about other back up plans or could at least extrapolate based on Sidious comments what his intentions might be.  In a very in depth interview on The ForceCast, Sam Witwer discusses just how smart Maul is and how much  he would have learned as the apprentice of Sidious.  There is a nice symmetry to the idea that Maul who was found in the trash on Lotho Minor, could rise to power again atop a heap of criminal trash and villainy.  King of the Underworld may not be as good as Galactic Emperor, but it's better than nothing.
As Darth Plagueis said, "You must begin by gaining power over yourself; then another, then a group, an order, a world, a species, a group of species… finally, the galaxy itself."  In Revenge we saw Maul gain power over himself through his healing, in Season Five we could see him gain power over another in Savage and possibly over a group in the attracting the criminal underworld to his banner.
Powered by

Sidelines