Review: Draw Star Wars Rebels (or, The Art of the Nozzie)
The psychological illusionist Derren Brown once conveyed a story in his book, Confessions of a Conjuror. That tale was one from when he was a child, perhaps four or five years old, and was attempting to draw a 3D nose. This wasn't something he decided to do out of the blue, I should add. He saw a looking though a picture book, and wanted to replicate a drawing he had liked. At first he started to draw a line on the page and then moved his pencil up – that is to say, made it hover above the page (the conventional hovering, that is. He didn't start to hover people until at least six years of age. He was a slow learner). Naturally, this failed to produce the desired result. Undeterred, he proceeded to bow the paper towards him, but was again left unsatisfied. Again and again he tried, until his mother finally taught him the secret art of drawing nozzies, a skill that eludes the grasp of many an adult artist, today.
As a child (okay, even as an adult) I struggled with making a drawing of a person look alive. A simple flick of the wrist by an actual artist that made a hand look realistic, for example, were things that I could never quite master. Which is why, when I started reading this book, Draw Star Wars Rebels by Egmont Publishing, my mind was put quickly at ease. This is because one of the first things that it discusses is something called 'overlines' – those very same touches that I had trouble with. It was then that I knew this was a book I could share with The Kids.
Okay, but since that's page twelve of an 89 page book, I should probably write just a little bit more. Mix things up a little. So, on to the review proper!
I mention above that one of the first things the book does is tell you about overlines, but – apart from a few quick rules – the first thing it does is tell you, using the tracing paper provided, to trace a picture of Ezra Bridger surfing on Chopper (seriously). For a book that's about learning to draw, this does seem a tad incongruous. It says that they – the editors of the book – believe in the power of the shortcut, and that tracing teaches you about curves, lines and shapes. I'm a bit sceptical; I'm not entirely convinced that this does help. Oh, tracing is fun, certainly, and is a quick and easy way to get results. But as a means of learning, I'm unsure – but that's just me playing armchair artist. I don't really know, but I'll take it in good faith that it is so. But even if not, the tracing activities do make an (infrequent) appearance*, enabling you to draw well a few of the characters and several space ships, so for that alone it is, on the whole, a good addition.
*By that I mean, the activities including tracing paper alone. In the first ten pages you can trace the faint but fully detailed outlines of the other characters on the paper page itself. These faint outlines make a frequent appearance, in various stages of detail, in almost every drawing space in the book. I'll expand on that later.
The instructions themselves are presented in four stages: 1) stick figures, 2) shapes, 3) basic details and 4) detailed details. Without going into too much detail (otherwise you won't need the book. I highly recommend getting the book, by the way. If only because it comes with a Star Wars: Rebels embossed mechanical pencil. And some colouring pencils, a black marker and a rubber, but I'm mainly just excited about the mechanical pencil), each stage talks about what is involved in that specific stage, and does so at a fairly easy pace, so that you never really feel overwhelmed when advancing through the book. I think this is the best way forward for those new to painting. My niece, for example, is one such person. And though she wasn't inclined to follow the prescribed guidelines at first, I do believe that she did benefit from such instruction and pacing. And this is the small human whose greatest masterpiece is the painting of the colour orange. No detail. Just painted the page orange.
But this is a fairly simple thing to do. Not the painting the colour orange bit; the advancing at a steady pace bit. That's easy. The neat trick is that, with each drawing space provided, the tracing images that are already on the page, intended to be used as gentle guides, are slowly simplified with each drawing, so that, by the time you finish the segment, there's no pre-existing image at all. By that time, you will have hopefully gained enough confidence and skill with that particular stage that you can do it without any help. This is something that is done with each segment, and it's a great touch. There's no 'ripping the band-aid'; just a slow easing into it. That, I fully believe, is for the best and a very useful aspect of the book.
That's not to say that the book has its faults; it certainly does. Later on, you're asked to fill in much more detail so that a few blocky shapes, that are the vaguest of outlines of a stormtrooper, can turn (supposedly) into, well, this: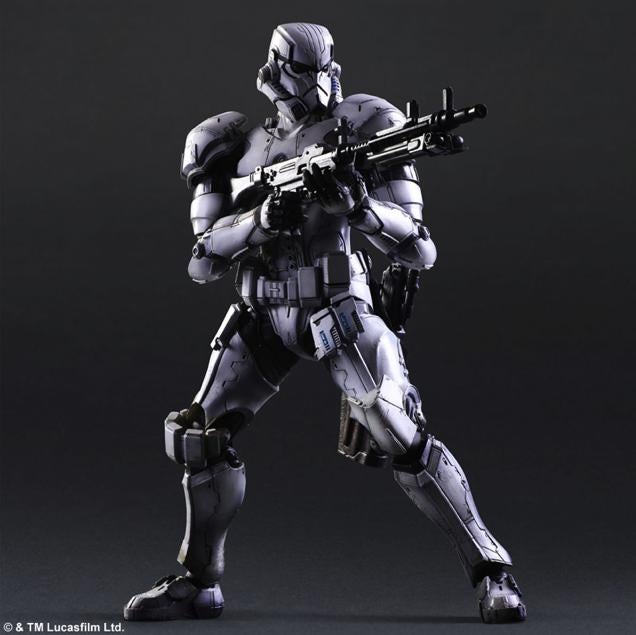 This is treated with much less ease. There's just two stages: basic details and detailed details, and they come with very little instruction or notes. I think this was a bad idea, as it can perhaps be a bit daunting to one just learning to draw. Certainly, Niece was happy to just stick with the more basic outlines and attempt to draw the rebels without consulting the book at all – which leads me to believe that this part could have well done with a few more steps. Or at least much more instruction and break-down of the character details.
But it wasn't just those steps that could have been included, but other things, too. I think it could have benefited from discussing shading techniques. As I write this, I'm looking at the page demonstrating how to draw Sabine. There are several areas of her body that require shading, but there's no real discussion on it. Of course, the budding artist can copy it just by looking at the picture provided, but my mind keeps drifting back to the four year old Derren Brown. He could have simply drawn the nose as he had seen it in his drawing book, and produced the same effect. But he wouldn't have understood how it was done. It needed the intervention of his mother to explain how the effect was, and can be, achieved.
However, despite the aforementioned faults, the book does provide solid basic skills upon which you can build – and that is the whole point of it. But that leaves one last important question: it could make you very good at drawing, but just drawing these characters. Are these skills transferable? Again those faults come to mind, and are what stop me from giving an unequivocal yes – but it is a yes. Those same basic skills are both an important foundation and easily transferable. Furthermore, with practice, I am certain that the budding artist can fully grasp those 'detailed details' that can bring drawings of your favourite characters to life.
Drawing Star Wars Rebels, published by Egmont, is out now in UK bookstores. Thank you to Egmont for providing a copy for review purposes.
Powered by

Sidelines