Reminder: This is not a full review (If you want that, that's totally fair, there are plenty of fansites that do), but rather a discussion on 2 or 3 bits of it with, of course, spoilers abounding.
First of all: not even sorry for that title.
Secondly: Woah, boy. This isn't going to be an easy review. Not because it was bad, but because generally I just pick a few things to discuss. But I want to review all of it. Almost every second of it was perfect. But, here are my picks:
Rex and Kanan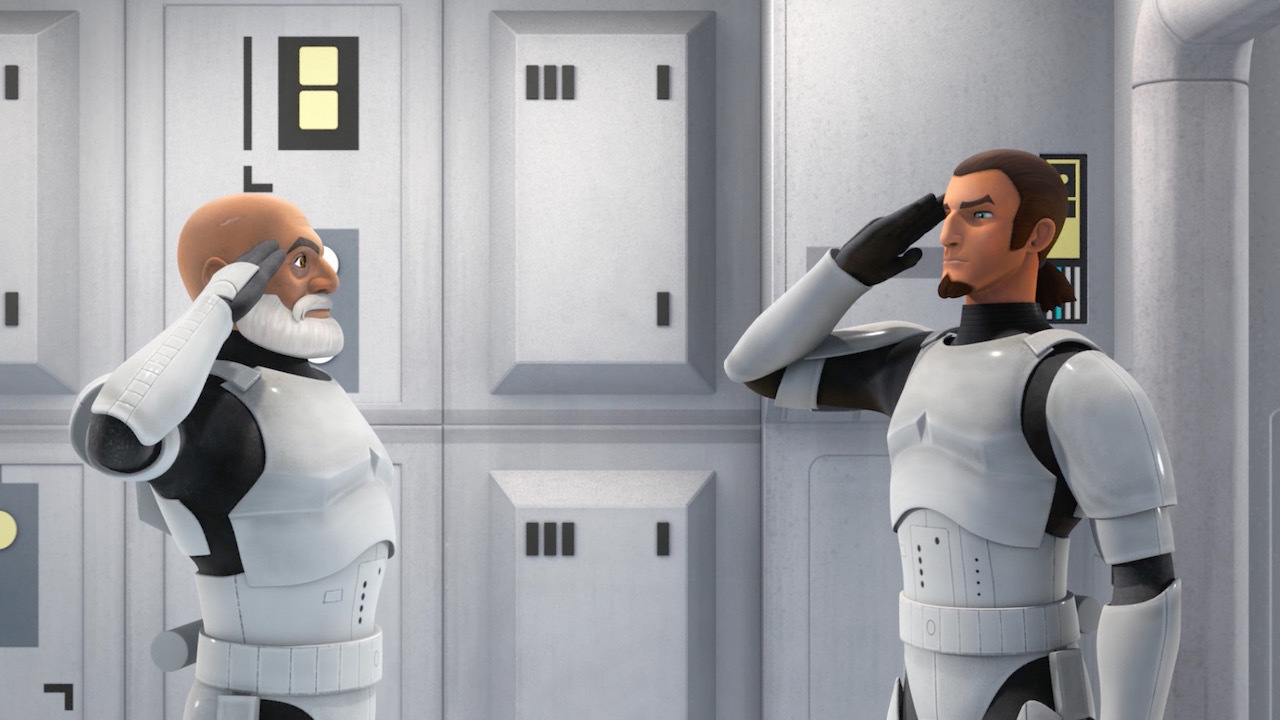 As a brief* aside, if you've ever read a review and wondered where they, the reviewers, get their images from, it's not from screencapping (as I used to think), but rather the episode gallery on StarWars.com. I bring this up because there were many Rex/Kanan pics, and I struggled to pick just one.
*Yes, thank you, I do know the meaning of the word. I looked it up on the internet.
Anyhoo, previously I have mentioned how Kanan has slowly come round and accepted Rex as, not just a person in his own right, but as a soldier innocent of any wrongdoing, and somewhat a victim, too, of the same machine that wrecked his life (Also costing the life of his master, Depa Billaba, but that's secondary to his pain, obviously). I must admit to jumping the gun, there, because this is the episode where that emotional conflict was finally resolved. Mea culpa*. That said, if it does continue beyond this episode, I shall be firmly and strongly calling it out, no matter how much in error I am.
*I googled this, too. It turns out that I've been writing it wrong, as 'mea cuppa', which, as a Brit, means something quite different.
All that aside, I loved the resolution. Sure, it did lean quite heavily on the buddy-cop formula – no bad thing, in itself, merely that it was somewhat tonally different than what was expected. But, it did contain a real heart to the conflict, and explored the key differences in their outlook, beyond just having a conveniently explanatory line. Okay, there was that, too, with Kanan as the mouthpiece, but it did provide ample example to back up the line, both before and after. And that 'before' is key: we've all heard of the 'show, don't tell' rule? Personally, I dislike calling it a rule. It's, for the most part, a good general guideline, for those who are learning how to write fiction, but it's just that. If you're good enough to pull it off, you can show and tell – showing first then telling, telling and then showing, tell and not show, show and never tell and whatever other combination I've forgotten. If you're good enough: Joss Whedon, who does have faults and blindspots as a storyteller, is generally thought as very good, and plays merry hob with this rule throughout Buffy and Firefly (and perhaps his other series, of which I've not seen so can't say). In this episode, the writers show, tell and then show some more.
But enough of that literary snobbery. Much like real-life working relationships, and avoiding the buddy cop cliche, the two manage to arrive at a working, functional relationship, yet don't really compromise either of their positions, and did so from their mutual disdain of the Empire, a genuine concern for their comrades, and a desire to see them home safe.
As a viewer, it helped that this was achieved with a large helping of humor, both in joking to, and at the expense of, each other, as well with some self-referential and occasionally lamp-shading humor (Kanan trying to talk code to an Imp officer and Rex wondering about the Imperial shuttle, and the poor shooting because of the helmets, were great examples of this). I took particular delight in when Ezra shot his would-be rescuers. Not just because it was a fairly humorous moment (thanks to Chopper showing his recording on repeat) but also because it highlighted, in a light-hearted yet in-depth way, how they responded to the friendly fire incident.
(Although, to quickly examine one joke: I thought it was weird how the Imp officer in the elevator noted that the armor was a little snug. I realize that a non-real, dictatorship's military might be different to our real-world military, but it seemed strange: I know many, many soldiers and military personnel who are on the very bulky side of things, there's no one-size-for-all in our earthbound military. Beyond that, from what I gather from soldiers who've served in the field, they often put on a lot of weight, for a number of reasons. So that, from a realism perspective, did jar me a bit.)
I realize that I've perhaps spent far too much time documenting Rex, here and in the past, but the Rex/Kanan dynamic is quickly becoming one of my favorites on the show. They gel together in a way that, say, Ezra and Sabine simply don't, and in the same way that Sabine and Zeb do.
Brom Titus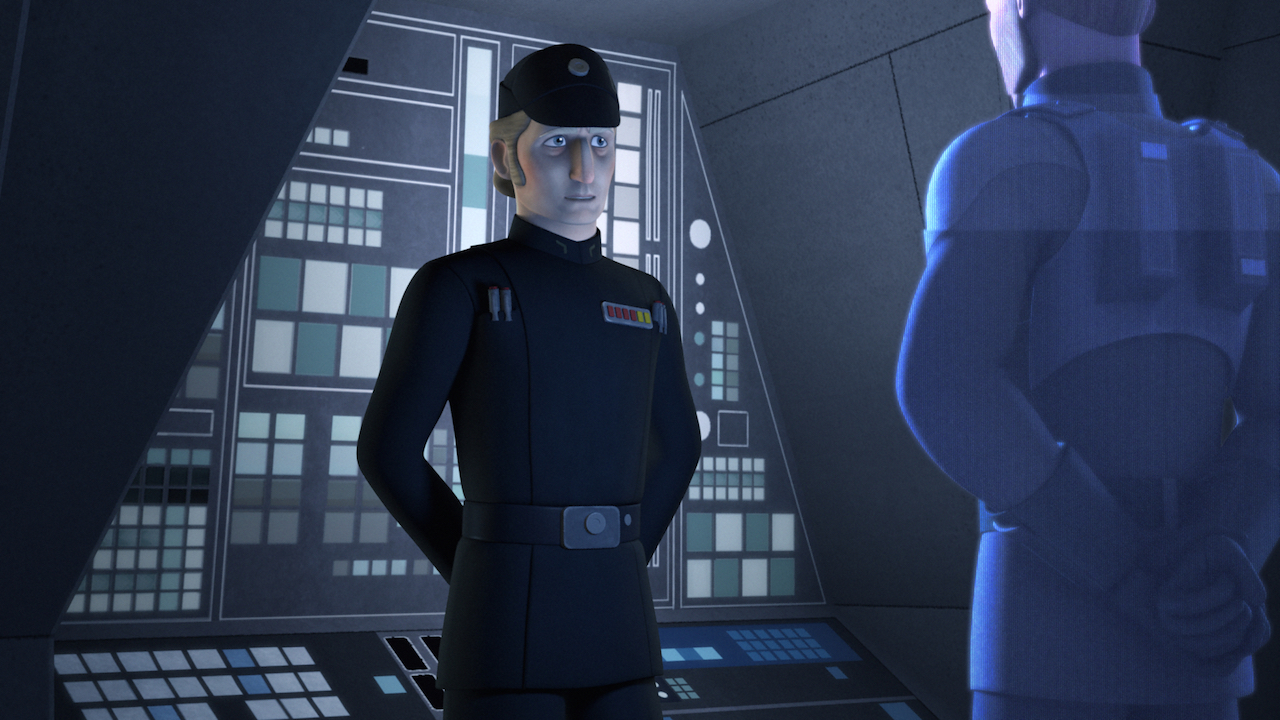 How utterly refreshing to have a baddie be competent! This isn't anything against Agent Kallus and the Grand Inquisitor (one of which, however, is currently suffering from a mild case of death), but when your heroes face off against the same baddies week after week, and not only that, but triumph, their abilities, and how they came to such positions of power, can be reasonably called into question. Of course, that's a danger that many TV shows face. How can you resolve your episode's conflict without a nice, neat victory? The obvious answer is to have your rebels suffer an ignominious and harsh defeat, but that raises its own problems. These heroes have to be special, in some way; special enough to win. And to have them lose constantly doesn't make for very engaging TV. You could always not have a conflict (or at least, not just in one episode) but that can be just as problematic and disengaging to the viewer. So you have your heroes win, time and again, your villains lose – and with every loss, they look just a little bit less menacing. Even this admiral Titus loses. But competency isn't about winning or losing.
Well, not necessarily, anyway.
Certainly it helps to be competent to win (well, not so much in TV Land), but showing that the villains are at least capable of getting one over the heroes does lessen the blow of the defeat to the viewer. From the very beginning, Titus proved himself: by capturing a rebel ship, to lure in a larger prey in the form of Commander Sato – which, he freely acknowledges, was down to luck. It doesn't hurt to be honest and accept that your windfall was pure chance.
Later, he quickly infers through logical reasoning the identity of Ezra (and to a slightly less impressive extent, the identity of Rex), and when 'Jabba' escapes, he wastes no time in ordering his soldiers to use lethal measures. This, as he states, was to save his own reputation (and likely, skin) in the eyes of Agent Kallus, but he does at least realize his error (more on that in a moment) and tries to correct it, rather than doubling down.
But why does this entirely capable admiral make such a terrible mistake? Surely he had read reports or heard rumors about the troubles this particular rebel cell, and this Jedi, has caused? It seems likely, but I have to wonder how much the Empire is letting slip.
(Before I continue, I wish to make it clear that a lot of it probably had to do with the fact that Ezra is a child. I merely wish to explore another factor that could be at play here)
From the old EU: From its very beginning, the Empire had been disdainful of the Jedi and their abilities. This is understandable, from an in universe perspective and a thematic one. Thematically, it makes sense to have the thing that the Empire held in low regard – even after everything the Emperor knew about them – to have the Jedi be his, and the Empire's, downfall.
In universe, the Emperor had long sought to destroy the power of the Jedi, first the physical, by wiping them out, and then the psychological: we know that the Empire did suppress quite strongly knowledge of the Jedi, to such a degree that people who were born in the last years of the existence of the Jedi Order – people like Han Solo – knew very little. More, by making them demons in the eyes of the public, and making them seem unimpressive, over-hyped kooks.
Of course, that's the old EU, but just from what we've seen on this very show, it seems reasonable to believe that this is the case in the new canon, as well. As such, I think it's entirely plausible that the admiral saw a mere child with an oversized glow stick, pretending at Jedi-ing, and thought that he wasn't much of a threat. Thus leading to the downfall of an otherwise capable and impressive admiral.
This seems entirely likely, given that …
Jun Sato Had No Trust In Ezra's Abilities
(Again, it may be in large part because Ezra's a child. But, again, I'm exploring other factors, and following it to its conclusion)
On the other side of the conflict, we have our heroes (By the way, I'm not forgetting Hera and Sabine; I use the word in a gender neutral sense. But that's a whole other conversation), who have looked to the Jedi as their saviors and as a source of hope. Admittedly I'm again leaning on the old EU for this bit. But again, it does makes sense that this would still be accurate, from what we've seen in Rebels. But what's remarkable is that Sato goes against this and lacks that hope, that trust in Ezra. True, Ezra is just a kid, which may explain Sato's lack of trust in his abilities, but all Sato knows about Ezra is that he's a Jedi in training, and trained by a Jedi of the old Order*, and that he's a member of one of his most highly skilled rebel cells. And yet, still there's a lack of trust.
*Personally, I'm not sure this would hold much weight with Sato. Whatever trust he has in Kanan, it's probably because Kanan has proved himself as a capable rebel, and nothing more.
Why is this? If we take all of the above as true (and certainly we shouldn't, but for now go with it), could it be that the Emperor's misinformation is so effective that the rebels still hold on to this unconscious bias?
I'm not in a position to do so, but I would love to go back and rewatch the first two series, to see how rebels outside of the main group react to Kanan's and Ezra's Force abilities. But certainly in this episode, when Sato is freed by Kanan and Rex, he seemed to accept, without hesitition, that these two could mount an effective rescue. This could simply be because, as I say, Kanan has proven himself a capable rebel, outside of his Jedi-ness. Yet previously, Sato expressed skepticism towards Ezra's usefulness, and later displayed surprise and downright shock at his skill. And furthermore – again I may just be overreaching on this whole thing, but – when Ezra tells Sato that Rex and Kanan will make their own escape, Sato accepts him at his word. If Ezra hadn't proven himself to Sato, it seems entirely likely that Sato would wait for the pair, and thus seal the fate of every rebel on board.
See, it just goes to show that if you'd just take a teenager at their word, the world would be a much better place.
Powered by

Sidelines