Hi! Quick note: This is not a full review. If you want that, cool, we can hook you up. Here we just take a closer look at certain aspects of each episode. As always, SPOILERS from here on out.
This week on Rebels, Legends of the Lasat takes the show back to its more mystical roots, wherein Zeb reunites with his people, long thought dead, and helps them find Paradise via means of a magical melee staff.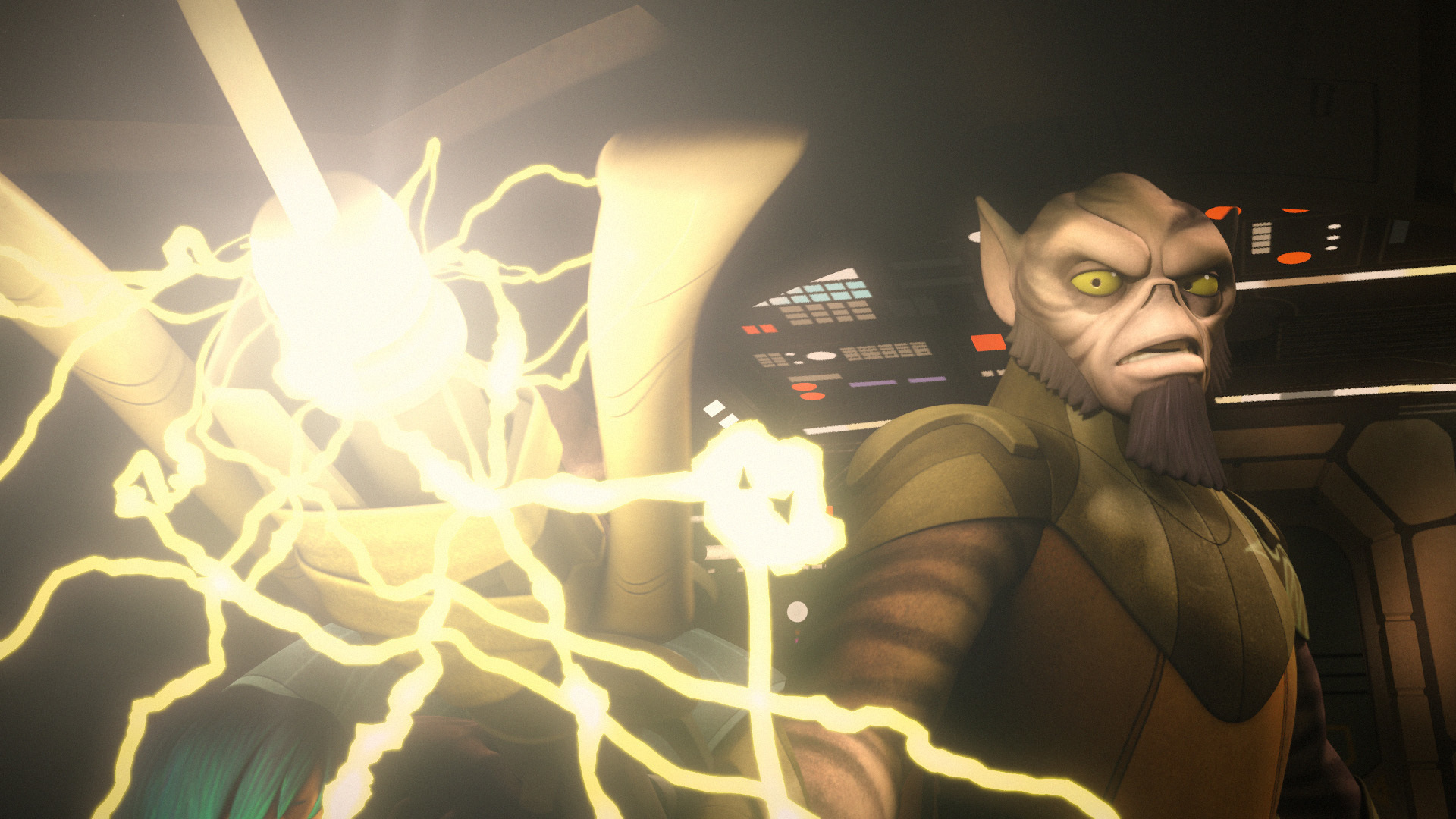 First, I must say that I am vehemently not a fan of prophecy stories at all, and this one had it in spades. If you like that sort of thing, more power to you, and rather than focus on what I didn't like, I want to focus on what I did.
Zeb's Hero Journey
The above image demonstrates the generally agreed upon 12 steps of the Hero's Journey (AKA the Monomyth). For those unfamiliar with what that is, the wiki page describes it as:
[…] the common template of a broad category of tales that involve a hero who goes on an adventure, and in a decisive crisis wins a victory, and then comes home changed or transformed.
This is a well-worn theme in storytelling and is common in many world religions. It's also one that every Star Wars fan, whether they know it or not, is very familiar with: it's Luke Skywalker's Journey. Not only that, but it's arguably the template for Anakin's Journey – only in reverse. I want to take this opportunity to show how the episode incorporated the entirety of the hero's journey. And did so in 22 minutes, whereas it took Luke 3 films. Not too shabby for a kid's show.
So let's provide a rundown of how exactly the Zeb's story does this (and here I must apologise for somewhat indulging in the more traditional recap-style of reviewing. Still, needs must). Before we begin, here's a website with a good explanation on each step. With that done, let's take a deep breath and dive right in!
The episode starts in the ordinary world (for the Spectres) when Hondo Ohnaka informs them of a group of refugees (Lasat) that need rescuing. Yes, for anyone else this would be an adventure, but for our heroes this is a normal day ending in … Yurt? I don't know what the Star Warsian names for days are. Anyhoo, Hondo also sets some stormtroopers on them for good measure. Because, I don't know, it's just not cricket otherwise? Zeb then receives a call to adventure when some old person with a stick tells him it's his destiny to save his people.
Zeb, the cynical old warrior, refuses Old Woman Yoda's call/demands (I don't think it could be described as a request) like – well, a pretty bad sceptic. Seriously, he hangs out with two or three Jedi on a regular basis, and has more than once fought against Force-wielding Inquisitors, you'd think he'd be more open to this kind of thing. Zeb then meets a mentor, in the guise of – and I can't believe I'm saying this, Ezra Bridger*, who acts as a sounding board for Zeb's thoughts, for which Zeb utilises to talk himself into becoming the hero he was and will be**. Zeb then joins the other Lasat in crossing their first threshold to find the location of the mystical promise land. (And in other news, General Leia was spotted kicking herself for not having some Lasat around.) It is at this point that Zeb encounters his enemy, in the form of agent Kallus, and passes the test of using his new-found magical powers to protect the ship and crew – this occurs during the approach portion, on their way to their ordeal. The ordeal where, if they fail, they arrive at their final destination. You know, the destination where they're deader than Elvis. But of course, Zeb sees them safely through the imploded star cluster***. It is here that Zeb gains his reward of a new home among his people. Which all sounds rather great, so why does he choose the beat up ship and the ragtag group of misfits? Because he's space Jesus, that's why. Seriously.
To wrap up, Zeb's equivalent of the elixir here is the ability to return to Lirasan, which I suppose is their version of paradise/garden of Eden (I'm not a Christian, so I'm a little unsure of the distinction). This choice to stay represents the road back step, paving way for his resurrection – evidence of which, admittedly, is a little thin, but I think we can point to how Zeb remarked on a desire to shephard more of his people to the safe haven. This statement of intent to help people is markedly different from when he merely wanted to blow things up and get revenge on the Empire for his people. And thus concludes the hero's journey of the episode.
*Who actually turns out to be sympathetic and helpful. The Anti-Ezra in me wants to espouse cynically about why this was the case, but I have to be fair: Ezra said all the right things to help his friend. One line in particular that I wish to highlight is when Ezra states 'I can't begin to understand what you're going through'. That was a lovely sentiment. People in the real world and fiction, in an entirely well-meaning but ultimately useless way, often say something like 'I understand what you're going through' when talking to a friend who, for whatever reason, is having a low moment. If you're ever in this position, emulate Ezra, because everyone's circumstances and pain is different, and we can hardly ever get the full picture to understand why someone is upset, so it's best to say 'I don't understand, but I'm here for you if you need that.' Well done, Ezra!
**Heros Quondam, Heros Futuris?
***Speaking of which, does anyone know if this is a common/known astronomical occurrence? I can't think of any instances, but then again my knowledge of astronomy is fairly limited. But as I watched the show, I couldn't help but wonder if there were something more mechanical at play here. Could it be that the Empire or someone else had used a superweapon, say as a test, on these stars?
So why is all this important?
Because it demonstrates how a story structure can be shaped to fit the needs of the characters (which is good writing), rather than the characters shaped to fit the needs of the story (which certainly is not). Yet, somehow, the episode manages to do that also, by utilising the prophecy storytelling device. This is something that Rebels has done on more than one occasion: combining great writing with the bad.
It also shows how difficult it can be to take a large arc and fit it into a mere 22 minutes. How many instances of this can you recall? Because I'll bet you entirely fake money that I can name five TV shows to your one where it takes at least an entire series – and occasionally several series – for a character to experience their own hero's journey. Again, Rebels manages to do it well in one episode.
Artistry
Before I leave you, I wanted to note how beautiful I found that last act, in terms of visuals and music. I've spoken of the hero's journey in mythological terms, and that's for a reason: Hero's journey, as I mentioned in the beginning, is a common theme in religious mythology. Star Wars, too, has deep roots various world mythologies, which is likely what inspired Lucas to utilise this structure for his films. Now, Rebels is (in my opinion) a beautiful TV series, but you often have to pause it just to appreciate how beautiful a shot is. The last act simply knocked it out of the park, certainly when compared to the beginning. Funnily enough, it became more beautiful right alongside Zeb's growing acceptance of his role in the prophetic mysticism of the episode.
It was, to say the least, an interesting choice on the part of the showrunners. And though I do appreciate their using of other senses to tell a story, I do wish they'd have that same level of beauty in the more, as it were, mundance stories.
Powered by

Sidelines