Ahoy hoy! Reminder: this isn't a full review. Instead I take a closer look at a couple of points and argue them into the ground like only a guy with a keyboard and an internet connection can. As always, SPOILERS from here on out.
This week on Rebels, Through Imperial Eyes, we see what Agent Muttonchops wears to bed (spoiler: the same thing he always wears) and … wait was that bounty hunter helmet from one of the Inquisitors? So Ezra, like, robbed a dead body? Duuuude no.
Count The Ways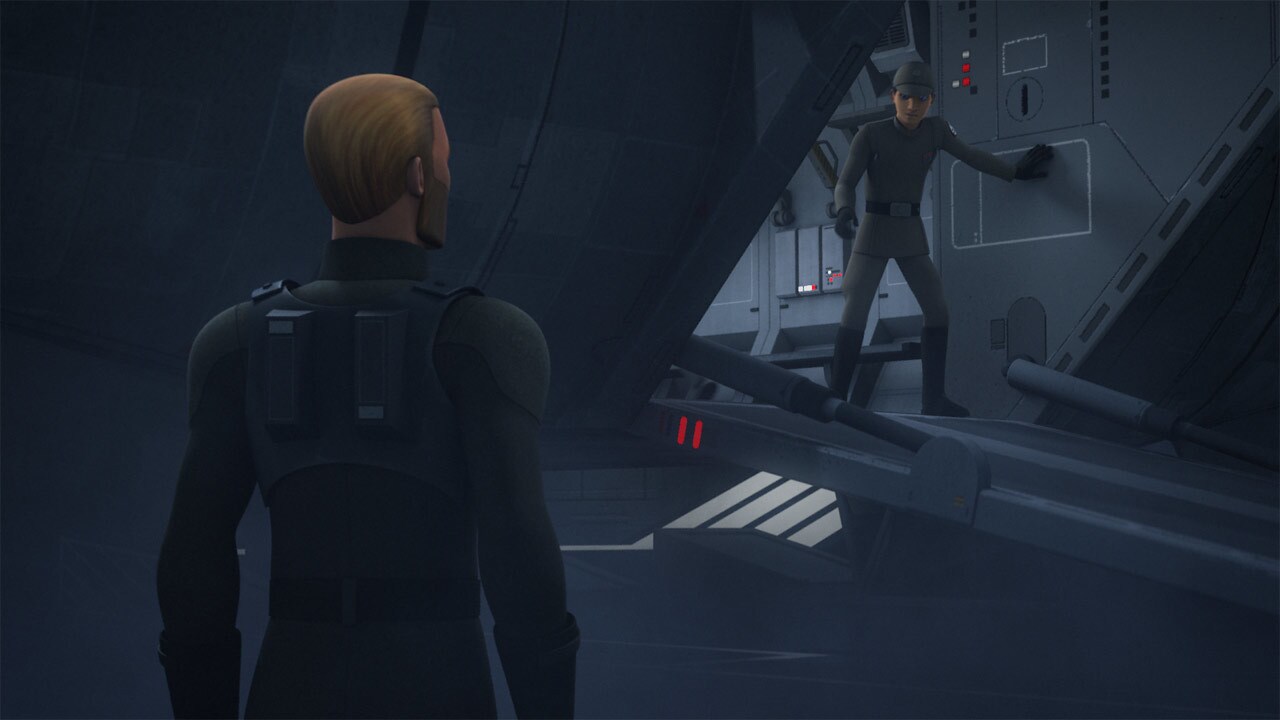 How well, do you think did Agent Kallus manage to cover up his tracks? The episode was wrapped up with a conversation between Colonel Yularen and Grand Admiral Thrawn, indicating that Kallus did an admirable job of it; he both successfully covered his tracks and was able to implicate the hapless lieutenant Lyste as the fall guy. Indeed it was only down to the keen mind of Yularen and the sheer brilliance of Thrawn that they were able to uncover the true Fulcrum. Or at least that's what we're supposed to take away from the conversation – because personally? I think that Kallus did a terrible job of it and that even Lyste could – eventually – uncover the identity of the mole. And if Lyste could do it you know you messed up. I mean, it's Lyste. Let's explore!
Point #1: The episode began with Kallus interrogating Ezra and in doing so two things occurred: one was that Kallus turned off the security cameras. The second is that Ezra left his helmet behind. I'll return to the latter in due time, but the former bears closer examination. To aid in this endeavour, let's place ourselves in the role of intelligence officers tasked with investigating what occurred, if only to have a formal rundown of events (in our own bureaucracies this would likely happen, and the episode went out of its way to demonstrate that the Empire is such an organisation). Anyhoo, back to the camera: does that seem normal to you? Of course, none of us are privy to Imperial rules and regulations, but given the interrogation scenes we've, ahem, seen on screen it seems that the Empire is all too happy to engage in legalised, formal and above all violent interrogations – as such I highly doubt that, had Kallus been caught on camera beating up a prisoner, it wouldn't really leave a mark on his record. It'd leave a mark on his uniform, the kind that doesn't wash easily if Lady Macbeth is any judge, but record not so much. As such, it seems rather suspect that he would deliberately turn off the cameras. Of course, there may well be just such a regulation and that this would appear as nothing more than a good officer covering his back. Still, it does establish a pattern – and patterns are just as useful as evidence, in a criminal case.
Point #2: Then there's those encryption cylinders. It's a staple of spy stories to switch out access passes to enable the spy to gain access to private areas – that's all standard stuff. The problem begins when you, as an investigator, start to scrutinise their uses. The episode establishes that their use is recorded digitally – Thrawn himself makes use of this to finger Lyste as the mole. But what about personal sources? A good investigator would surely try to establish who else was in the area at the time and ask them whom, if anyone, they had seen. And though we don't see it, Lyste would have likely used Kallus' cylinder at least once, just to get into the detention area (I doubt it's a place just anyone can walk into). Or with Kallus himself – he may have used it to get about on the ship, and others could place him in those locations at those times. Speaking of which, I don't know how Jedi mind tricks work, but wouldn't the guard to Thrawn's office remember that Kallus was with 'Lyste'? After all, Ezra only convinced the stormtrooper that he was Lyste, not that 'I am Lyste and Kallus was never here'. And above all that, wouldn't there be any security cameras throughout that ship? I don't know about the US, but we have them in normal workplaces, here, let alone in military bases and ships.
Point #3: Let us now turn our attention to what happens when they're inside Thrawn's office. In what galaxy is it ever a good idea to erase just one file? Good gods, man, you don't do that. Delete a dozen or them all if you must, but not just one. Haven't you ever heard of redundancy? What if Thrawn had multiples of that list? What if he had kept records of his elimination process, or even just used a computer program that enabled him to look through previous versions of his current work, as some word documents allow us to do in the real world? Or what if Thrawn himself had memorised the list, just because that's a Thrawny thing to do?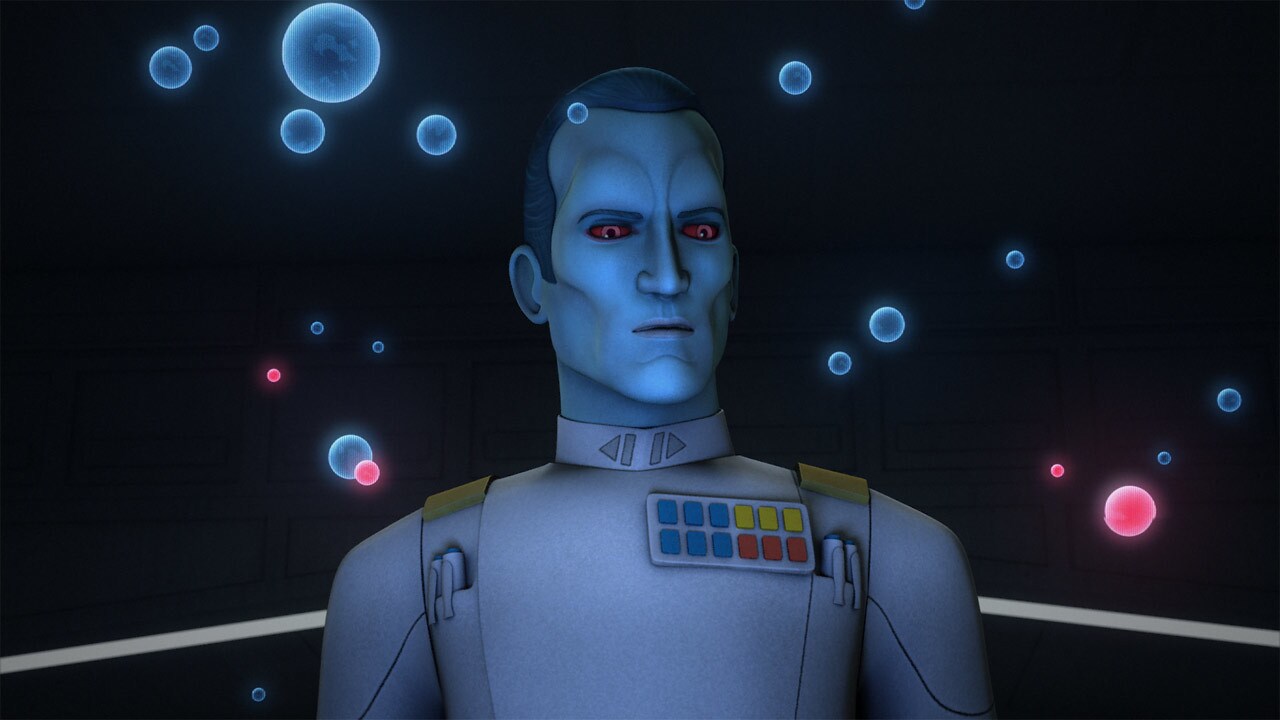 Point #Many: What of Lyste? Is no one going to interrogate him? As they all think that he's Fulcrum, you can be absolutely certain that they'll want to ascertain the amount of damage that he's done, what information he's passed to the rebels. When he starts talking about being asked by Kallus to spy on the governor, that's going to raise a red flag – or at the very least a raised eyebrow. This is an important point, especially as we go into …
Point: #Many-1: Ezra's helmet. It required Thrawn to be able to identify the art style of the helmet as that of Sabine's – and thus that the bounty hunter must have been a rebel also. Please don't get me wrong, that was a really cool moment. But you don't need to be a genius to work it out, as I'm (hopefully) demonstrating – and I'm not a genius*. Say you're the said investigator and it's your job to interrogate Lyste. You dismiss his mad rantings about Kallus as little more than a desperate attempt at saving his own hide. Nevertheless, it's your job to build up the case and to build up a minute by minute understanding of what went down. This helmet means nothing to you, but you look at the security camera records from the bounty hunter's brief stay in the detention facilities of both ships and run his picture through whatever identity recognition software you have and you are not at all surprised to find that the bounty hunter was none other than Ezra Bridger. Your heart lifts and you gleefully punch the air, satisfied that you have your smoking gun. But then you frown as you read his file. You notice that Kallus has had multiple encounters with Bridger and his ilk. Why didn't he recognise him? you ask yourself. And then you might start to wonder if there was more to Kallus' turning off of the cameras, that perhaps there was some truth in Lyste's mad ramblings, after all …
*Technically, I am. But IQs don't actually mean anything beyond bragging rights and they definitely don't mean anything when you're foiled by child safety locks.
Missed Opportunities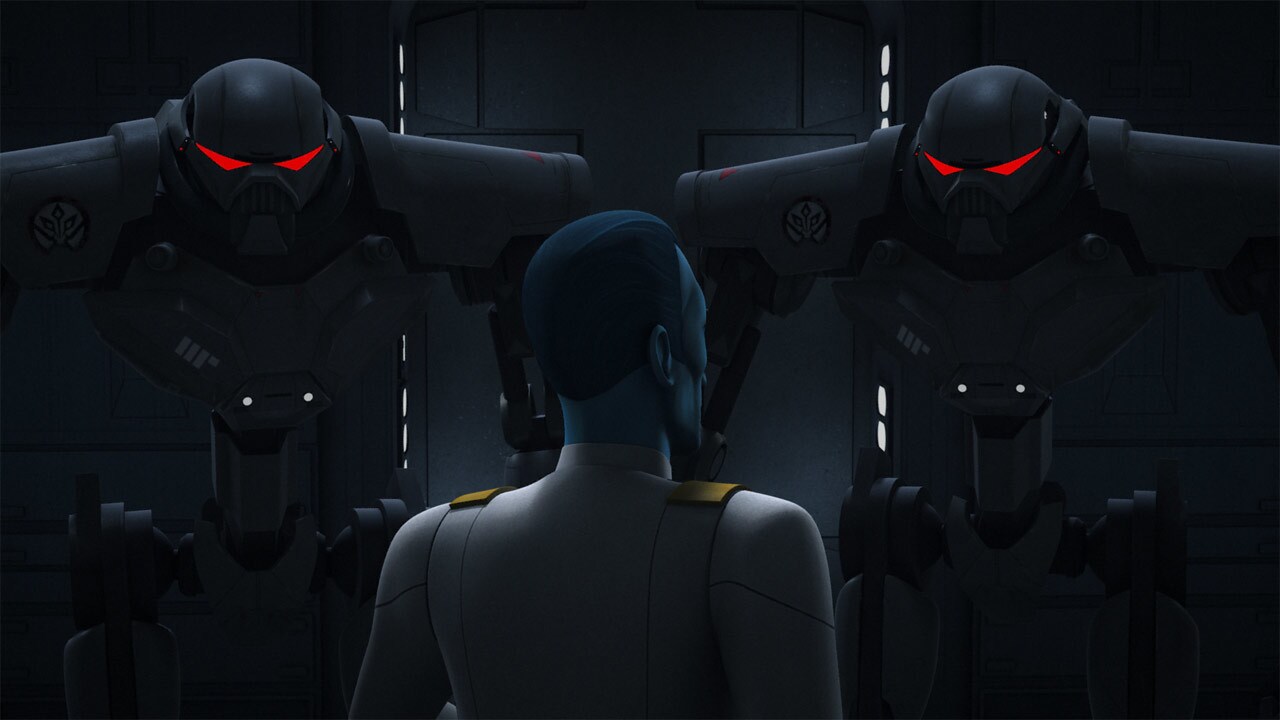 There is an assumption, in writing, that you must take into account: Is what my character doing reasonably possible? And if that's possible, using the same skills and circumstances, is my character capable of doing something else? The writer Bernard Cornwell often says that writing is like scaling a mountain. Half way up you notice an easier way up, so you go down and use that route instead. Then, half way up that second route, you notice a better way and duly switch again. In that scenario, you have the same tools and same skills each time (though to take it literally, your oxygen bottles may be a bit more empty with each attempt) but you're using them in different ways to achieve your goal.
This is what happened in this episode. The original plan, for the Spectres, was to infiltrate a minor Imperial ship, contact Kallus and then escape using a stolen ship and codes. This of course goes sideways. Instead, they must use the same ship but find even more important codes (which, of course, they do). As a part of an escape plan, that seems like an obvious thing that you'd do, but take a moment to think about those actions because those two things are actually really difficult to do (and if they're not so difficult, why aren't they infiltrating Imperial ships once an episode?). Indeed they're so difficult that it seems like a bad idea to waste it on rescuing just one spy (sorry Kallus). What's more, the securing of those codes, at least as far as I can tell, seem to be good for only one use. Because surely after our Spectres rescue Kallus, the Empire would move swiftly to change their clearance codes? Again, it doesn't make sense to use it for such a minor mission. Instead, I propose that they should have undergone a much more difficult, but much more rewarding mission: to kill Grand Admiral Thrawn.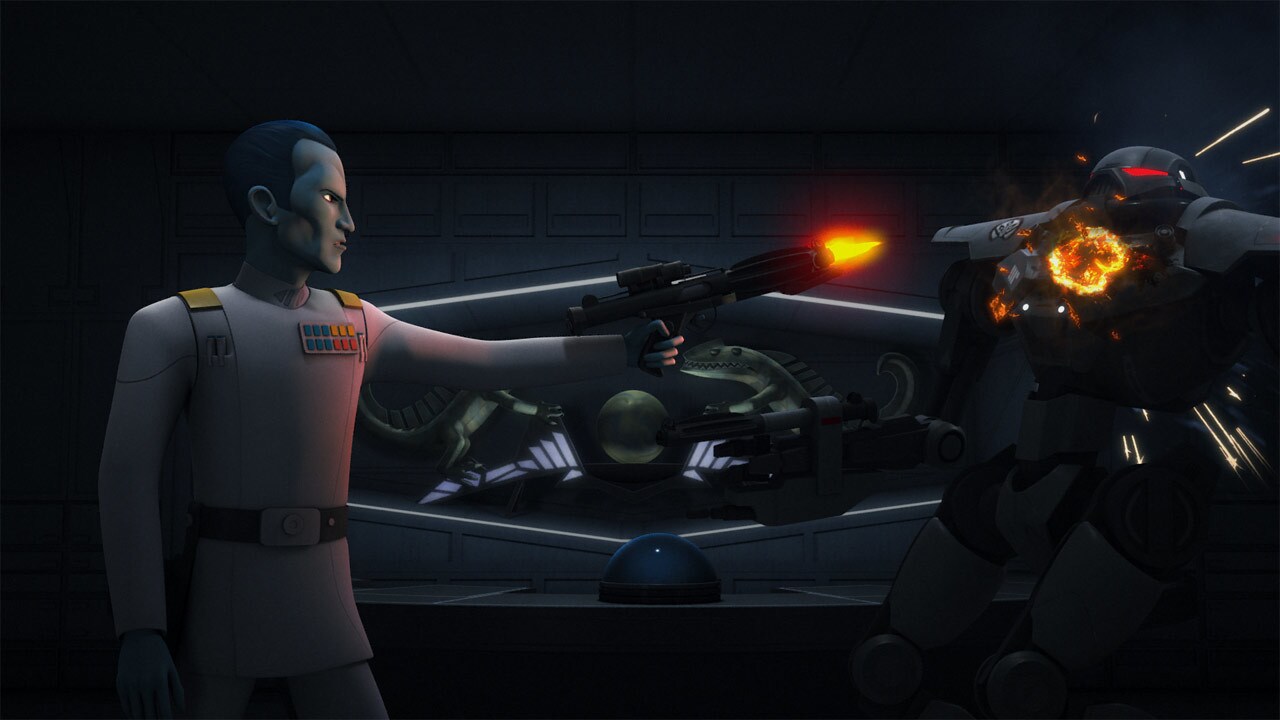 Just in this episode they had several opportunities, were they so inclined. For the entirety of the episode, Ezra was an unknown quantity. By utilising him as a shock weapon, Kallus could have manoeuvred Thrawn into an area with little protection and clear lines of sight. Not even that, Ezra, surreptitiously armed by Kallus, could have hidden in his cell and then, when Thrawn entered, he could have sprung (as he did with Kallus) and launched a surprise attack. Or even more simply, Kallus could have shot Thrawn in the back as he was walking down a corridor. Not as heroic but it would have got the job done.
Now, I know what you're thinking. Kallus was under pressure. It's entirely unreasonable to expect him and Ezra to even think of striking out, much less actually doing it. I here you. I understand because that's a fair thing to expect. But at the same time they're a Jedi and a skilled Imperial agent who are for most of their time able to walk amongst the Empire seen but unseen. They could have. They may not have been able to walk away from it, but they could have killed Thrawn.
But let's say it was premeditated; Looking at Ezra's actual plan, it wouldn't need much altering to make the assassination attempt: Ezra gets captured in the same way and meets with Kallus in the same way. Instead of saying 'your cover is blown, I'm here to get you out', he could have expanded the parameters of the mission to 'your cover's blown, I'm here to get you out and kill Big Blue.' which they could then have carried out through a number of methods, from the previously mentioned scenarios (but with more planning and forethought) to sabotaging the ship's reactor. Or much better, they could have included Kallus in the planning stage and tasked him with gaining those clearance codes to Thrawn's ship (which he did easily and though not stated, it seems that he is regularly stationed on the Chimera so would have had ample opportunity) and then to send them to the Spectres. That way, they could have sneaked in completely under the radar and wreaked merry havoc howsoever they wished.
If I may step back briefly and examine these points in an out-of-universe context, the fact that our Spectres were able to even make (and take advantage of) such an incredible feat in the first place is, to be a tad harsh but hopefully fair, an example of some rather shaky writing. Just as my other point demonstrated a reliance on old tropes that, taken together undermine a key moment in the story and the plot. I say this because, even though I enjoyed the episode and the show as a whole, it's important to be aware of its failings. Now, apart from that, on an in-universe level it is in keeping with the Spectres' chronic short-sightedness. On more than one occasion they've let opportunities with great theoretical potential go to waste because they haven't anticipated how it could go wrong, or even how it could go very, very right. Because they are capable of more, and this show is capable of more, too.
Powered by

Sidelines