The vast and detailed Star Wars universe seems a good fit for collectible card games, and vice versa. When collectible card games (CCGs) first appeared in the '90s – think Magic – The Gathering (1993), a number of licensed and not-so-official star wars card trading games followed, attracting an enthusiastic and loyal fan base. Most CCGs have a fantasy setting, and Star Wars, with its vast and detailed universe, is as many parts fantasy as it is science fiction, so the two make for a good pairing.
Unlike in regular card games, in a CCG the player buys a starter deck and can then add expansions to it to obtain further cards, thus encouraging a culture of card-swaps and collecting amongst players. Cards are played off against each other as the game unfolds, with each card representing a particular combination of defensive and/or attacking stats. Buffs and debuffs are deployed, with an emphasis on strategy and tactical maneuvering. It's a popular game model, but it's been a while since we got the last big Star Wars CCG.
With the surge of publicity around Star Wars: The Force Awakens (now out on blu ray), and the upcoming release of the first standalone Star Wars movie Rogue One scheduled for December this year, there is a significant gap in the market. Perhaps the time is right to update this noble concept and take advantage of the extraordinary leaps forward in digital technology since the first star wars CCGs appeared on the scene.
Long ago, in a decade far away…
Decipher's Star Wars: The Customizable Card Game kicked things off in 1995. Despite a hefty instruction manual, the 2-player game proved a massive hit, spawning 11 full expansion sets and various bolt-ons. Drawing its inspiration and artwork from characters, races and locations from the original trilogy (and umm The Phantom Menace), the game gave Magic: The Gathering a run for its money, and soon became a top-selling CCG in its own right.
The idea behind the game was simple enough: players choose a side (Light or Dark) and then set out to conquer the universe, one card at a time, by laying out their forces and maneuvering for battle. The complex rules allowed for enormous variety of gameplay, with the average game taking around an hour to complete.
As The Phantom Menace was hitting the cinemas, Decipher lost the license to make the card game.The final expansion set, Themed Palace, saw release in autumn 2001. Everything went quiet for a bit until 2012, when Fantasy Flight Publishing released Star Wars – the Card Game, again based around the classic trilogy, and again to popular acclaim. Designed by Eric M. Lang, this 2-player game was nominated for a number of Golden Geek Awards in 2013.
And then… along came Hearthstone and the CCG world moved online.
The Rise (and Rise) of Hearthstone
The publisher of War of Warcraft, Blizzard Entertainment first released Hearthstone on March 11, 2014. It was the first CCG video game, using lore from the Warcraft series and designed as a free-to-play turn-based online gaming experience.
The game client caters for Microsoft Windows, OS X and also supports iOS and Android devices, enabling players on different platforms to compete with each other using constructed decks of 30 cards apiece commanded by a selected hero with a unique power. The game ends when an opponent's health has been reduced to zero… And then you swiftly start another one, because it's seductive, easy to grasp, and very good fun. By April 2016, Blizzard reported a player base of over 50 million people and the game regularly features as a top Twitch stream. It's easy to see why – Hearthstone is simple to play, yet fiendishly tricky to master. Individual games can be won or lost on a chain of critical moves. These are the requisite ingredients for a viewer-friendly sport, and so it has proved, with a number of high profile cash-prize tournaments hosted by Blizzard and other parties.
Hearthstone is so hot right now that even a series of celebrities have joined the ranks of its fans, from model Adrianne Curry to baseball pro Hunter Pence. Considering its heavily tactical gameplay, the hit game's appeal to poker professionals is not surprising. Among the masters of the felt who play Hearthstone is Daniel Negreanu – who's accumulated over $32 million to date in poker tournaments – and Bernard (ElkY) Grospellier. The latter in fact started his lucrative gaming career playing StarCraft II before moving to poker. ElkY often streams Hearthstone games on his popular twitch channel, just one of the reasons why he's ended up in the top of the 2016 Social Power Table of poker players. Popular house DJs Zedd and Avicii – whose net worth is estimated at $75 million – also play the digital CCG, and there are tweets to prove it. Will they be this year's surprise duelists at Blizzcon, just like Negreanu and ElkY played a live Hearthstone match there in 2015?
A New Hope
So what's next? Enter HoloGrid: Monster Battle, which may turn out to be as radical a game changer as Hearthstone proved, stepping up the CCG format in decidedly futuristic (and familiar) ways. Star Wars Visual Effects Supervisor Phil Tippett is the name behind the game which is as yet still very much a work in progress. Tippett, winner of two Academy Awards for his special effects contributions, will be familiar to Star Wars fans as the man who created the famous Dejarik "Holochess" game played aboard the Millennium Falcon in the original film. Indeed, the two games, one fictional and the other virtual, bear uncanny similarities, as you can see below.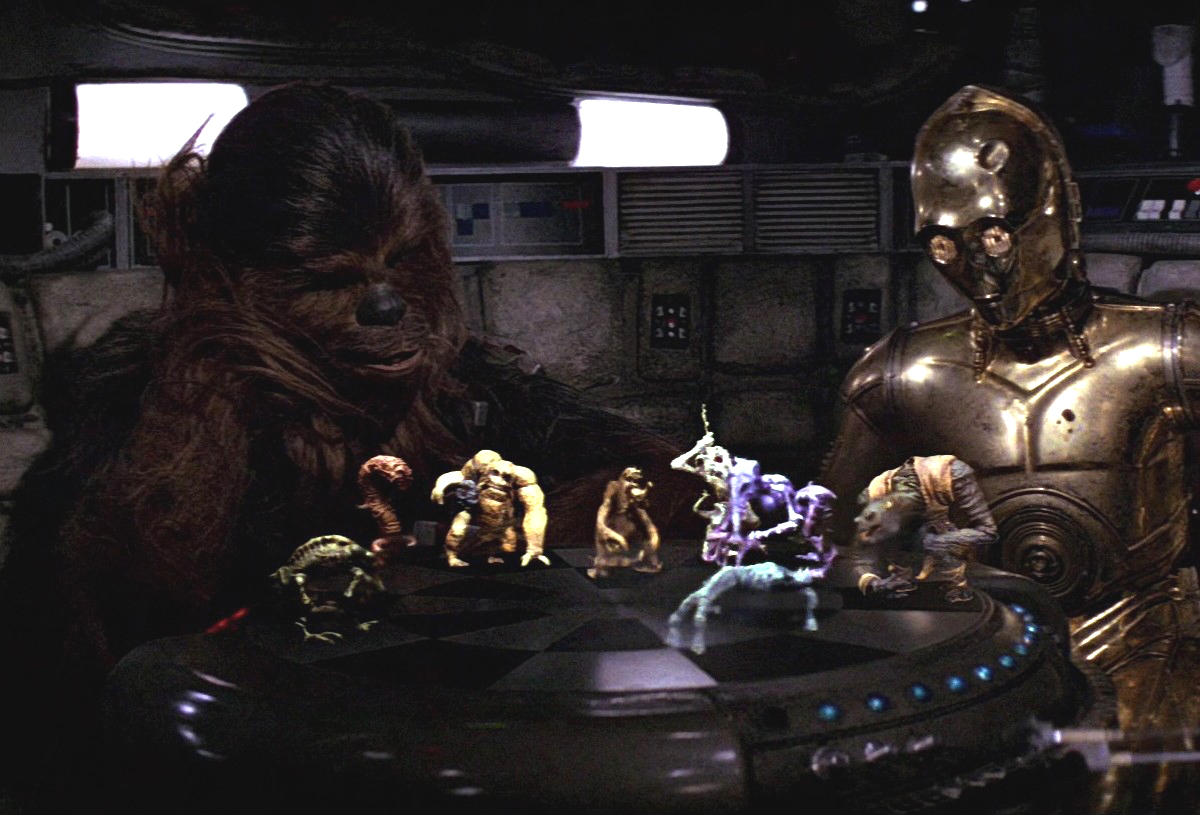 HoloGrid is something very new; a state-of-the-art digital modelling technique dubbed photogrammetry allows Tippett to scan in physical creature models and render them as 3D digital assets in the game. When played, physical cards will trigger miniature Augmented Reality creatures on a gameboard, wrestling for position in a way that looks an awful lot like Dejarik.
Tippett's namesake visual effects company and now games developer is working closely with developer HappyGiant to bring their cast of alien monsters to snarling growling grappling life. It's intended that the game be playable both online and offline, and also optimized for the new generation of AR hardware and Virtual Reality headsets. It's certainly an ambitious idea, with some very intriguing possibilities.
"Everything is proceeding as I have foreseen…"
The technology is (almost) there. The phenomenal success of Hearthstone shows there's a market to be had for online CCGs. And Phil Tippett must be in a good position to try his hand at a Star Wars licensed game along the same lines as HoloGrid.
HoloGrid could, then, be the "dry run" for a future VR/AR game based in the Star Wars universe.  Live-streamed Dejarik tournaments on twitch.tv might be closer than any of us suspected, so fast does the online gaming world move. Such a game would truly be a Force to reckon with.
Powered by

Sidelines